Welcome to O'YA Cantina
O'YA Cantina is thrilled to bring the flavors of Latin America to the Briar Chapel community. Enjoy some of the greatest dishes found throughout Latin America and Spain. We offer flavor profiles and authentic dishes for all tastes – spicy, sweet, and savory – and menu options to satisfy vegetarian, vegan, & meat lovers.
The O'YA Cantina Experience
We're committed to serving up unforgettable dishes and flavors, but just as important is the way you feel when you're with us. O'YA Cantina has an old world Latin America ambiance with all the comforts of modern design. The music, vibe, and staff's energy transports you from your ordinary day to day to a truly unique place to relax and enjoy family and friends.
Fresh Authentic Ingredients
Sauces and dressings are house made daily with the freshest ingredients. Avocados are sourced from Guatemala and Colombia because of their superior fat and protein profile and flavor. Experience Peruvian corn and peppers in our soups, snacks, ceviche, and other favorite dishes.
taquitos
Banana Leaf Tamales
One of our signature dishes is our banana leaf tamales. Common tamales are cooked in corn husks, which can result in a dry tamale. Our Guatemalan style tamales use banana leaves to produce a consistently moist tamale with unforgettable flavor.
food and salsa
Signature Bowls
O'YA Cantina is the perfect destination for a mid-day option that will satisfy and not leave you in a food coma. Our bowls are energizing, flavor packed, and customizable. Choose from a large selection of proteins, vegetables, Peruvian quinoa, rice, and sauces to create the perfect meal.
carnita corn
Authentic Beverages
No cantina is complete without a great drink menu. Whether you're enjoying a weekend cocktail, or a just a refreshing drink with your meal we have something for everyone. Choose from three different house made Margaritas, two types of Mojitos, or from a large selection of Latin beers.
jarritos
Live Music
That's right, we even have live music on the patio. When the sun is shining and the weather is great you want to be outdoors. What makes sipping on a tasty beverage and enjoying a flavor packed meal in perfect weather even better? You guessed it – live music.
exterior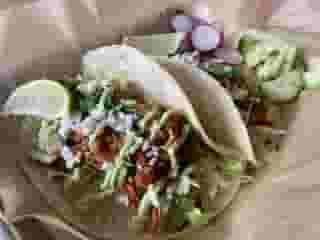 Guacamole & Chicken Tinga Recipe
Learn how to make our Guacamole & Chicken Tinga at home with this recipe, as featured on wral.com